Now you're probably wondering why a respectable hillbilly like mahself would wear a poser squidlicious Icon helmet. I ask myself the same thing every dayum day…
I've owned just about every helmet you can freaking imagine. Arai Vector 2, Shoei Qwest,RF1100,RF1200, a few Sharks, a few AGV's, a few Suomy's, a Nexx etc etc. A lot of helmets, I is a gear freak. I thought the RF1100 was mah lid, it did save my life in January in a pretty brutal crash which I flew down the road 420 feet…
I briefly worked at a Honda dealership out der on that Right Coast, I went out on a test ride one morning and left mah lid out in the rain afterwards. So after work my bossman lent me a Icon Airmada to take home (no one likes a fishbowl for a helmet) I was like "Ugh, is there anything else you can lend me? Icon? Really?"
He laughed "It's actually a nice helmet, give it a shot ya whiner"
Begrudgingly I did give it a shot, cause my wet RF1100 was sopping whet.
This helmet first off fit like a glove, it cradled all the good parts of my head. But I thought "I look like dat squid over yonder, I can't do this"  I returned the helmet after my brief one night stand. Ready to plop my Shoei back on, cause Shoei. But it felt like poo compared to this little plastic Icon Airmada. What Teh Fucks!?
Flash-forward about 6 months, post accident in January (where I wrecked wearing mah Shoei) and I was on the hunt for a new lid. I scoured ebay for a lightly used XS Shoei or Arai, cause I is a broke/cheap little bastid. When suddenly I saw a Icon Airmada XS for $97 NEW, there were a ton of them. But I couldn't do it. It's an Icon. Squids wear them. I ain't no squid.
So I found a nice Arai Vector 2 for cheap, but it felt like poo compared to that Airmada, so I bought another RF1100, it too felt like doodoo. So I sucked up my huge gear boner pride and bought me a Icon Airmada. OH THE SHAME I FELT.
Finally got my grubby little mits on the Airmada, it's not the prettiest looking helmet out there, but fer 97 hobo dollars, I ain't complaining. Another cool side note, it has passed a ton of pretty strict countries safety inspections:
DOT FMVSS 218 (US), ECE 22-05 (EUROPE), SAI AS1698 (AUSTRALIA) & PSC (JAPAN) SAFETY AND TESTING STANDARDS
Not bad for a little poly shelled helmet.
Not sorry about all the dead bugs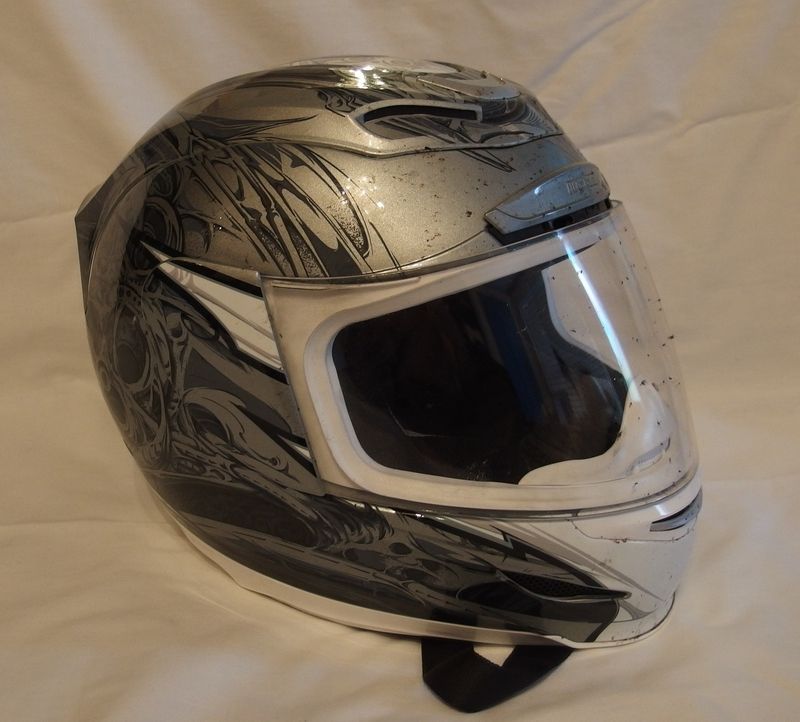 I was also drawn to it for the fact that it comes in 4 different shell sizes. I wear an XS lid, which is hard to find a helmet that doesn't look like an astronaut helmet on my shoulders. Not to mention smaller lid = less wind resistance = MOAR HP
The interior:
Icon uses their HydraDry liner, which is pretty spiffy. It does that wicking stuff really well. The liner is comfy, soft, supple, and has just the right amount of squish. The one thing I have noticed after about 5k miles of wearing it, the liner does get a bit filthy, as it is a light grey color. But I'm a bit filthy, so I'm totally ok with this. All the pads pop out so you can has wash times with them in tub.
Even with my nasty beard, the padding isn't getting torn apart, both the Shoei and Arai showed signs of mah beards destruction powers.
8.5/10 for niceness.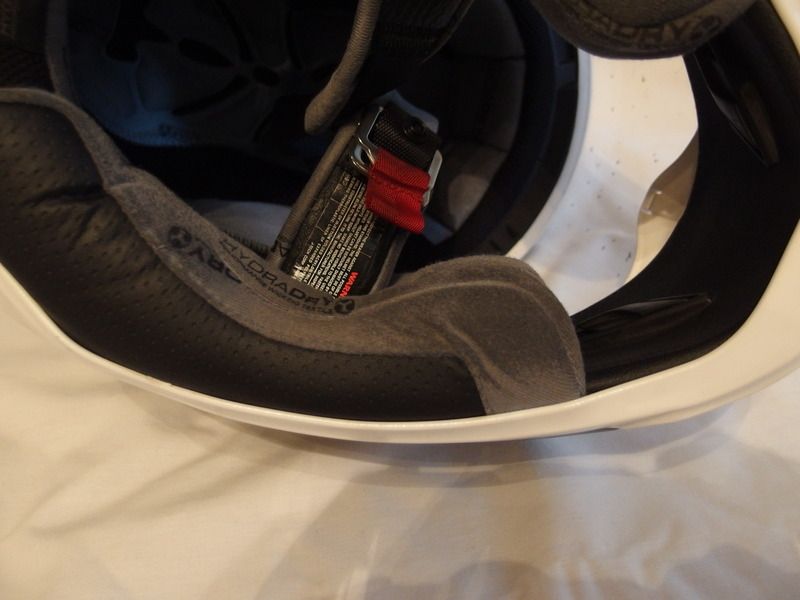 Noise:
This is the one area which is noticeable between the poly shelled Airmada and say a Shoei or Arai. It is a bit noisier, even with all the vents closed. Not overly noisy like a Suomy. Also, not noisy enough to make me choose a different helmet for a 1400+ mile weekend. Good earplugs are my friend.
6/10 for noise
Ventilation:
It has vents, they vent air.
How well?
Decently?
When I pop all the vents open, I can feel a slight breeze on mah nekkid skull. But the thing sound like sticking yur head behind a running small jet. But fresh air!
I love the chin vents, on a hot day the two side chin vents allow fresh air straight to yur mouth. Most excellent thing indeed. I've had zero fogging issues, which is another excellent thing.
6.5/10 for the vent times.
Visor:
This is where this helmet shines, the Icon Optics are fantastic. The clear shield is has no distortion what so ever. Which is rare in a helmet these days it seems.
___________________________________________________________________________
Now you're asking yourself "Why does this guy like this helmet so much if it is noisy, has mediocre ventilation and finds it ugly?"
Because it fits so well! I've worn this helmet for 14+ hour days in the saddle with zero pain, hot spots, or discomfort. When ever I go for a ride I stare at my Vector 2, RF1100 and the Airmada. Every single ride, I snatch up my Icon Airmada and go out hoon'n. Something about it just works. If you are looking for a new lid, don't overlook this little puppy! Even though it's "Cheap" it's loaded with good fun bits that'll keep you happy as a clam.
(This is not a sponsored review, I paid for this helmet wif mah own tree fiddys)