So I was telling SisterCousin that I was getting out of town and camping last weekend. next thing i know he invited himself on my  ride and was like, "where's we goin?".  I was gonna rehash mah usual far north route but he wanted to get my guru, BanjoBoy,  in on the action which meant we was going east and had to coordinate with the guru's morning plans for us. plus, mah boss says i ride too goddamn much and I couldn't get a three day weekend. so we had friday night until sunday.
so, i grabbed a map, gave guru our itinerary and set about planning. i found some nice squiggly looking roads that got us to our end point in faaaar north california from the oroville area. i sent it to the banjoboy and asked if we could camp on his lawn. he said yes so friday night we set out for three hours of slab and night riding. slab sucks. when we got to the guru's he had already passed out so we staked out on his lawn and went to bed. he snapped a picture of us on SisterCousin's Tyvek tarp from his home security cam and sent it to us. i am the big lump.
SisterCousin: UncleDaddy says I can't sleep inside. Tis ok, I like sleeping with the bugs. 
The next morning we got up and set out. (But not before the buckle fell off mah boot. Talk about ghetto touring. I found the damn thing and screwed it in by poaching the screw from the other side. ) The guru Daddy had a route planned for us that included some dirt and riding over a recently chipsealed road. This is my favorite, Sistercousin approves mucho too!
So off we went. I don't really know where we were but we started near paradise and ended up on the left shore of lake almanor. It was good times…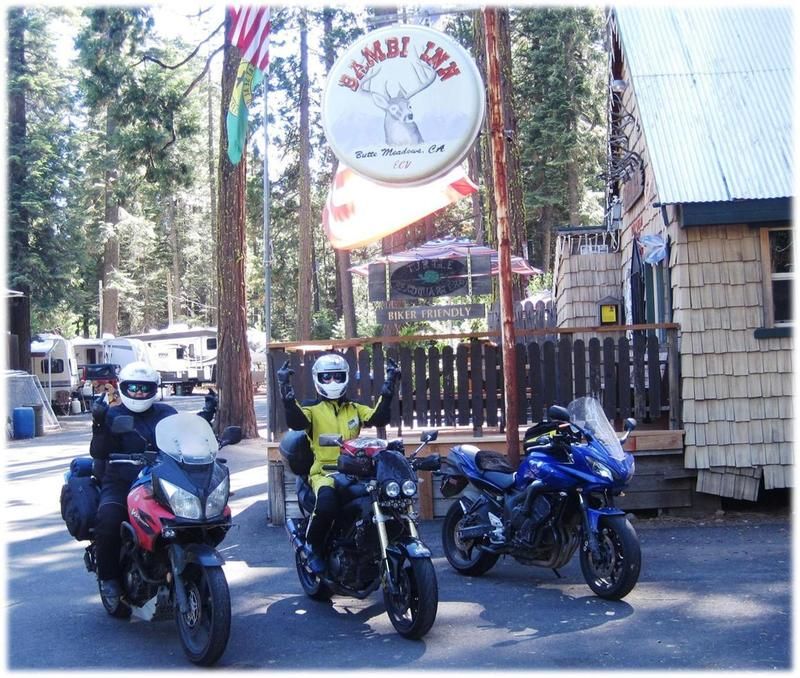 Until I passed the guru and sistercousin on the dirty section. I got reprimanded at lunch and the guru swore.
SisterCousin: Damn Cheeseburger was goin real fast, it was so durty the shit bike was skurred for it's life. It did real swell going uphill on the rocky sections, just pinned it to winned it! 
Some pictures of Guru, Mistress Cheeseburger doin durty things: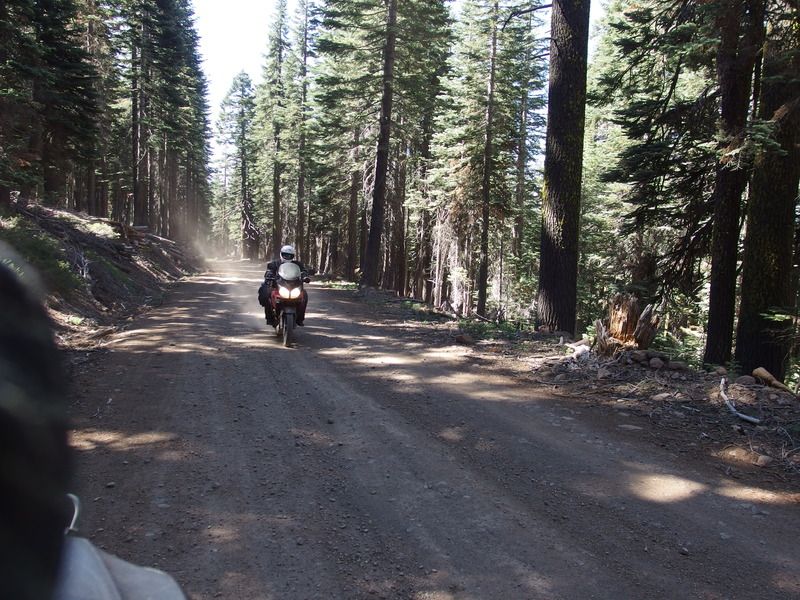 SisterCousin: I stopped so dat dust could settle a tid bit and took this sexorz shot of mah motorcycle in da wild, where it belongs.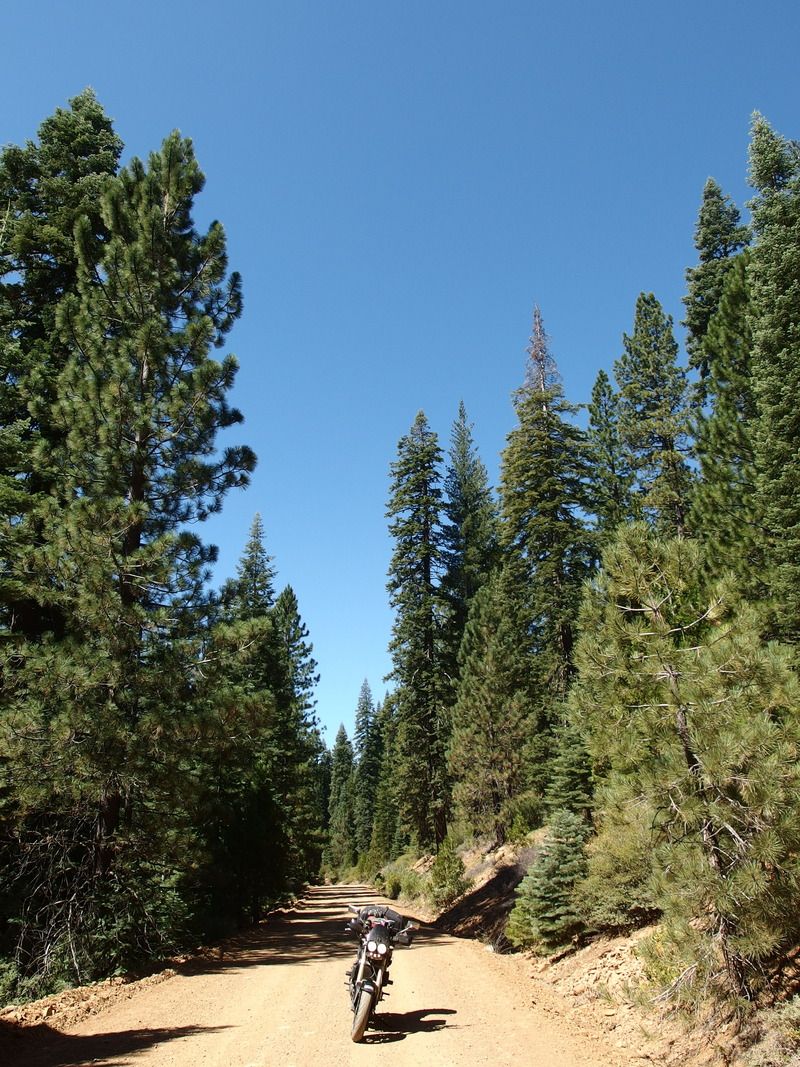 After lunch and good byes daddy headed back home and we set out to get up to the state of Jefferson. I found a nice looking twisty road on the paper and decided we'd take it heading north. We were not disappointed. It was goaty and twisty, it brought us to a little mountain lake so we stopped for a swim and a safety break. It was getting warm, time to take 10 off the bike. good, happy fun times.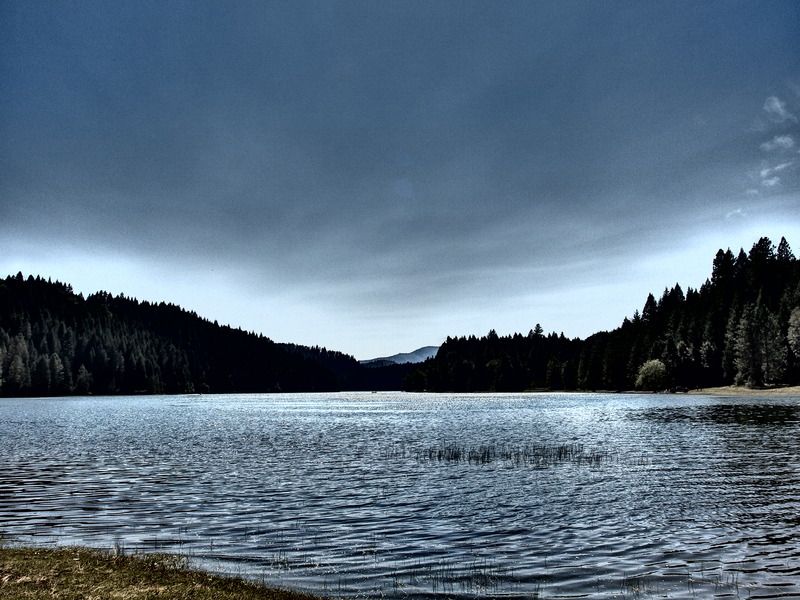 Back on the bikes we rode a few more miles past that lake and it turned into dirt. Surprise! we were real happy, it was purty and sistercousin loves big bouldery roads like the one we were on. Then we stopped at another real purty lake!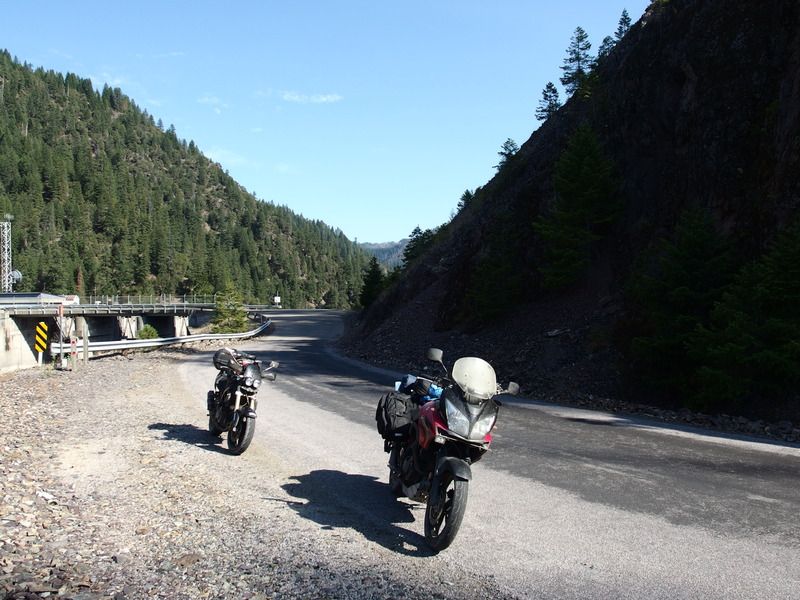 SisterCousin: I sure do ruv them rocky durty roads. The shit bike likes them do, it think's it is a little bmx bike, wheelies off everything in sight. 
After we got done with that super duper extra fun road we were HUNGRY. So we stopped in McCloud and had a cheeseburger. Damn, it was good.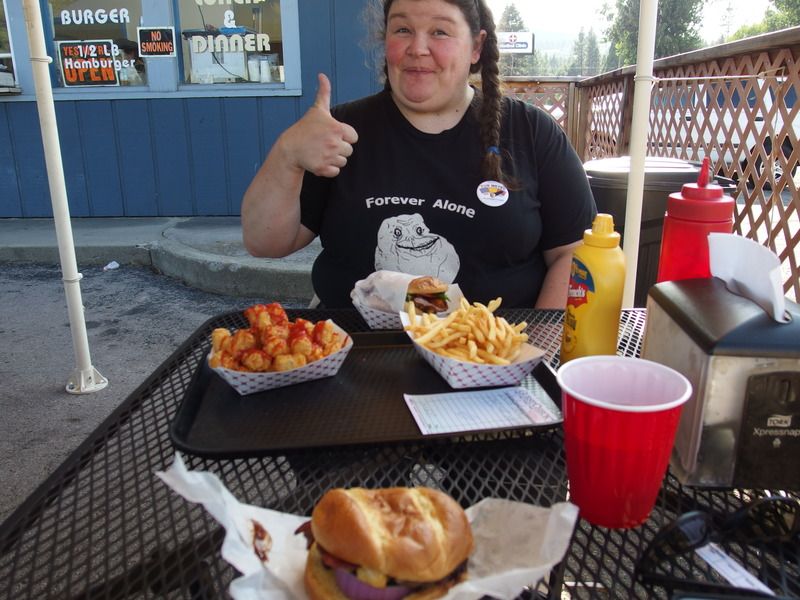 Then I stopped in a little store and bought myself a state of Jefferson sticker. I was born there, gotta represent. Plus it's my happy place, dammit! After cheeseburgers we stopped in to Weed (no, we weren't smoking dope) and took a picture of our bikes by their real nice WEED sign. And then off… to more new roads we'd never ridden before. SisterCousin killed a squirrel with his bike.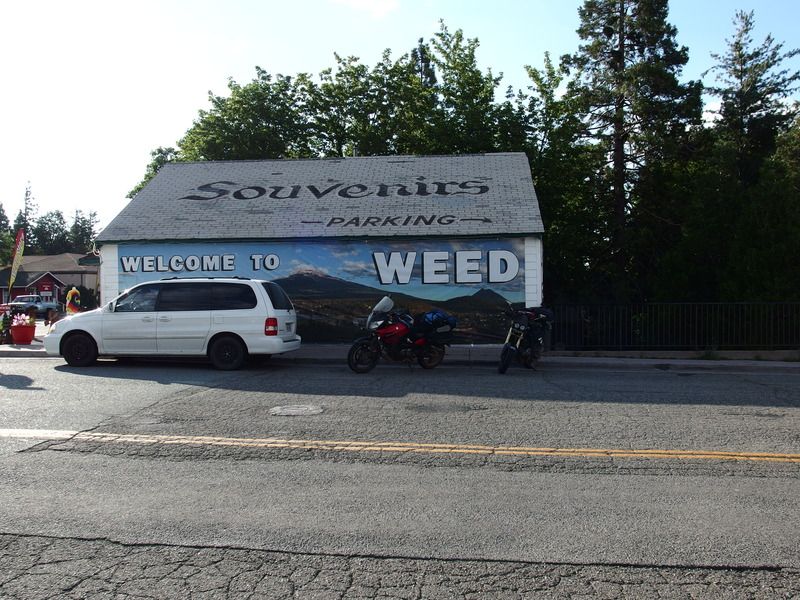 We could smell and see smoke as we got closer to our camping spot. On our way we stopped at the gas station to get some water and found out the rodeo was in town. Yee HAW! We arrived right at at sunset at my happy place and I threw my arms up as if to hug the mountains. I was so glad to be there again. For me, getting out there on the roads to these magic spots is as close as I come to a religious experience. It's magical.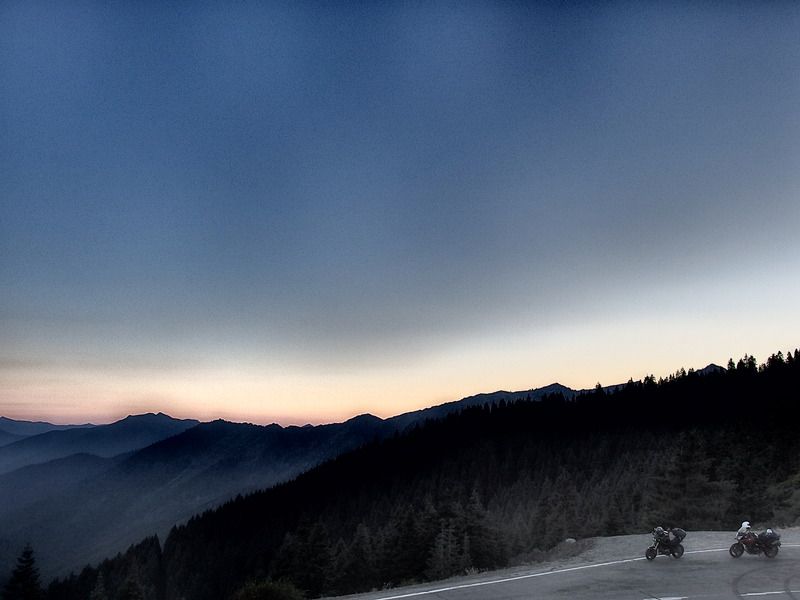 The magic continued as we arrived at our spot right at dark and found a space was open. We set up then I hopped in the creek. The frogs were croaking and the crickets chirping. The moon was shining. We drank some bourbon, ate snacks out of my saddlebags and chilled out after a great day of riding. I was, in every way, so content.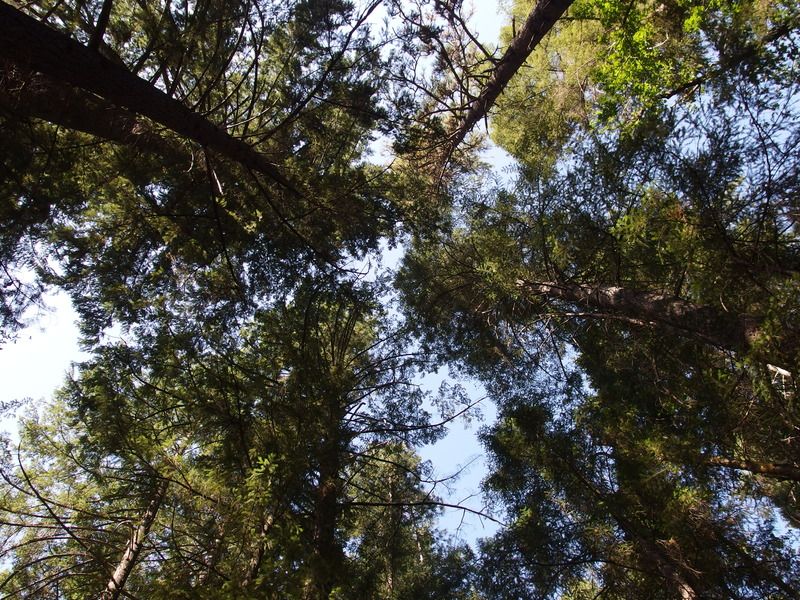 The next morning we woke up, ate some granola bars and sweatymeat and got off to a slightly later start than I had wanted. So we had to split! I hooned at high speed to the gas station about 90 minutes away from our camp site on these roads:
SisiterCousin: These are some of my favorite roads on the entire trip. 30-50mph on the cliff edge. 
HNNNNNNNG *spooge*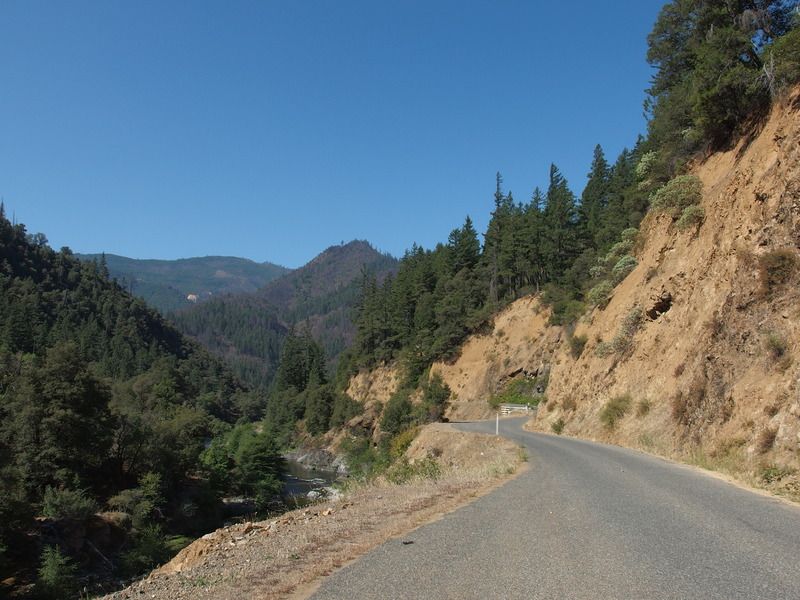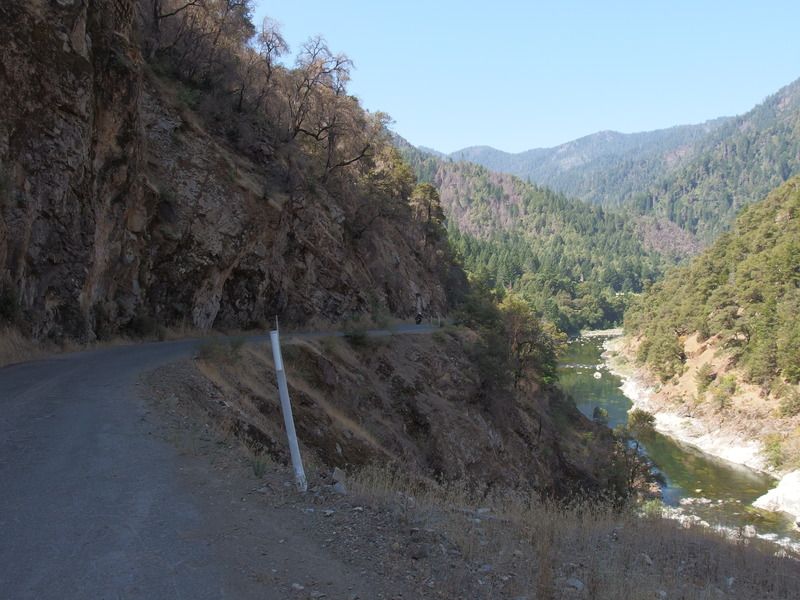 We gassed up and headed along our magic ridge road to get some cheeseburgers. Once we reached the ridge SisterCousin put me on his shitbike. IT TRIED TO KEEL ME!!!! Every time I hit the brakes the thing would slide around like I was on ice. Maybe handing over his bike to me as we approached a steep, twisty and gravelly section of road wasn't smart. After a short time I pulled over and told him to take his bike back. I DON'T WANNA DIE. I think he felt real bad for trying to kill me cuz he gave me a pair of riding gloves from his topcase. Mine were toast. I had a big hole in the finger of my glove. So I forgave him.
SisterCousin: On second thought, it probably wasn't the smartest idear to switch bikes there. But what ever, shitbike tries to kill every and anyone that puts their cheeks on it.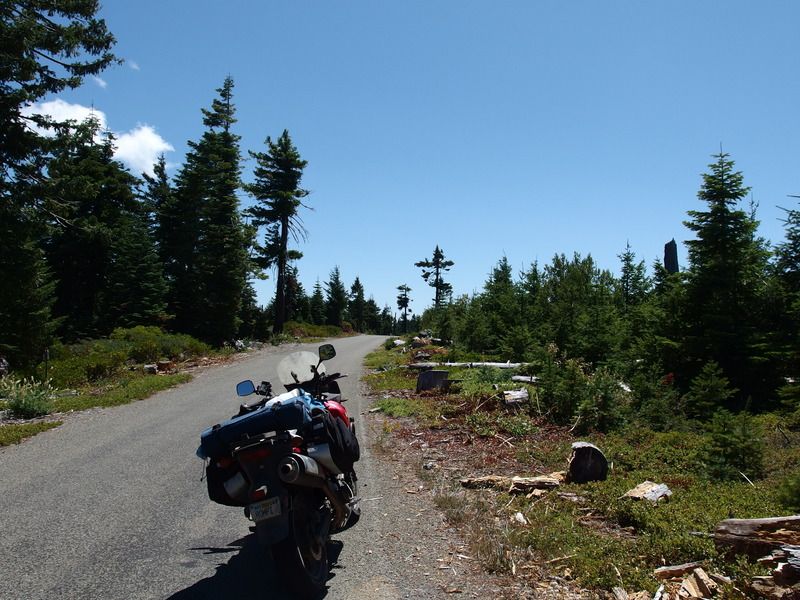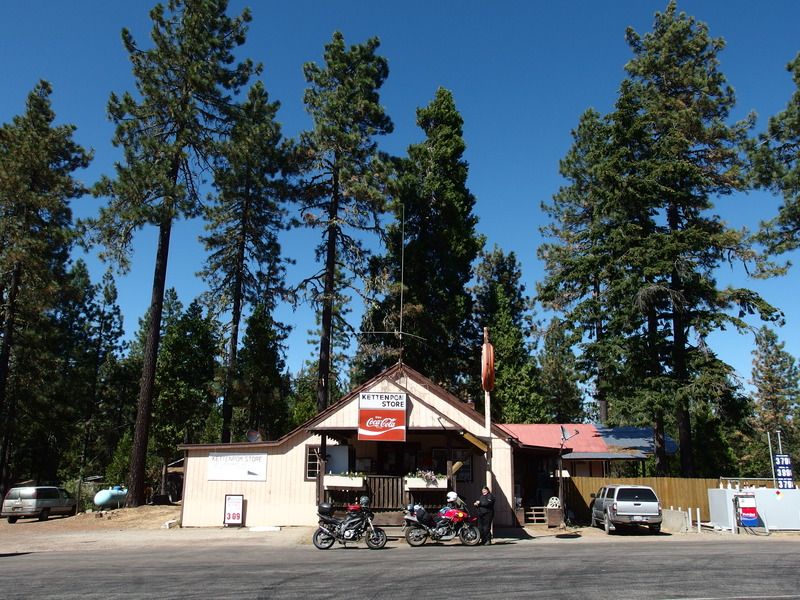 I was real sad to leave our ridge top road with its magical vistas but those cheeseburgers were real, real good after all the riding we'd done. Plus, I was finally gonna show SC another of my happy places. So off we went. SisterCousin has really learned the roads up there. It makes a cheeseburger proud. Off we went, goating down a new road. Happy times… then through the trees and to the ocean. I would follow him, he would follow me… and then I got to show him the first road where I ever felt truly fast. I pinned it to winned it. We got back to the freeway and we were done. We'd had slidy times, happy times, dirty times and sticky tire times. We'd done a bunch of new roads and some of the old favorites. I wish those times would never end but I always look forward to the next time I go back home.