Happy sunshiney day. The weather agreed that I should go riding. I set out to find the road for Ceva at Marco's suggestion. My GPS didn't feel like cooperating. It consistently wanted to route me to the Autostrada instead of letting me opt for back roads. BAD GARMIN.
I putzed along the coast from Genova. Stopping for gas in the City a nice station attendant helped me tape my visor shut so it wouldn't flap. I adjusted to riding in Italian traffic. Oh, the things that we can do there. It's just the way things are. I love it.
Here's a photo of their port I took two years ago. My camera in my phone broke (BOO!!) so this is all I have. I went through the 'burbs and working sections of town. Very cool.
Since GPS was being stoopid I decided to stay on Italian route 1 from Genova heading west. I knew my highway number and figured I could look out for it. Italian road signs and I have a pretty good relationship but this was not our day. I missed my turn. I stopped in Albisola Superiore and considered riding up to Sassello , which was a road I had ridden  two years prior. I wanted something new though.
Here's Albisola, also from two years ago. Note pretty wee strom that matches the one I now own. <3
Eh, fuggit. Off to France I go because it's sure pretty along the ocean and it smells lightly like flowers. The towns were cute so I tolerated slow speeds and gazed around. 'Sides, I had it in my mind to go to France because I could. Around 3 I arrived at the border and the guard didn't blink as I rode through into Nice. I rolled down a few streets, walked a bit while admiring buildings and drank an espresso.
Caffeinated, I hopped on the Auto Strada to get back to Genova fast. The A10  was nicely curved in many spots.  That section of A10 is a series of tunnels cut through hills and viaducts straddling valleys below. There's a lot of great terrace gardens and greenhouses in the hills. The views were actually good as well and I was able to recap my ride from above as route 1 was visible from many of the long raised sections of roadway. Here's an image from the Innerwebs.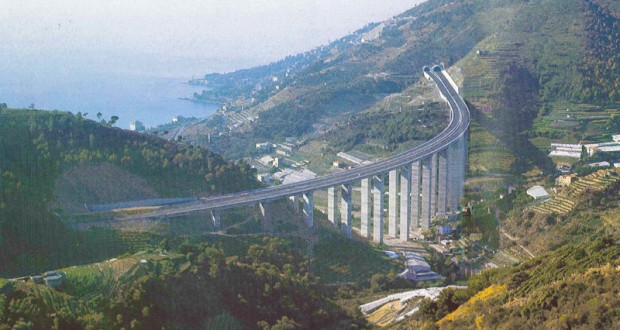 Marco, my host, asked if I liked the bike when I arrived home. I said  that it was just okay. I hadn't clicked with the feel of the bike the whole day although it had been competent on the curves of the A10 but not in a way that moved me. I was still having a good time, though, and there was more to come. I was riding in Italy again and loving it.